» Link 1
» Link 2
» Link 3
» Link 4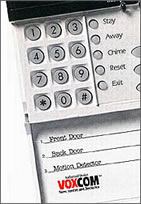 Alarm Facts
Buying an Alarm System?
Beware of the power of TV and radio advertising that offer free alarms. Free alarm systems quite often create false alarms due to inexperienced, untrained installers, resulting in municipal fines of $75 or more. You will still be required to pay the $25-35 per month monitoring fee on your 36-month monitoring contract.
Some alarms that take two hours or less to install, generally use wireless contacts that are held in place by velcro tape. These are subject to false alarms and may not be supervised by the monitoring station for loss of communication or low battery.
Good alarms systems are not cheap and cheap alarm systems are not always good.
Sirens are one of the major components in an alarm system. It should be audible to the outside of your home in order to attract attention. Too often, a shortcut installation method of a smaller, ineffective siren being installed in an inside closet, which is not audible to the outside. Ideally, a 30 watt siren should be mounted in the attic, facing out the soffit or an outside vent.
The best alarm systems are wire types and if you have to go wireless, use a reputable manufacturer such as DSC, who has been in business for over 50 years.
Most false alarms occur from the following: poor wiring methods; cheap motion detectors; no soldering of contact switches; no connectors used for splices ( only wire sheathing is used ); copper will oxidize over time and will produce false alarms if proper connectors are not used.
Make sure alarm is owned by you at the end of the monitoring contract. Also, ensure alarm panel is a well known brand, such as DSC. There are many proprietary alarm systems that only can be serviced by the installing company and you may have to pay their exorbitant rates.
Remember, it takes a certain level of skill to install an alarm system properly into a home in order to look nice and operate trouble-free for years to come.